Our First Ever Virtual Christmas Pageant
from Rev. Jessica McCrae, Minister, updated November 19, 2020
I need your help! Covid has disrupted all of our usual routines and many of our traditions, but we are learning to adapt. This year I need your help to create the first ever Streetsville UC Virtual Christmas Pageant. This will be a safe and fun way to involve the whole family in the Christmas story and it will be available to view starting on Christmas Eve day from the safety and comfort of your own homes. And share the link with family far away!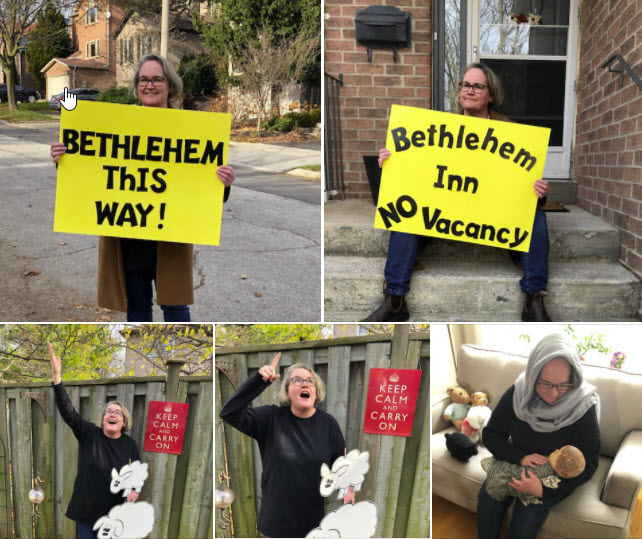 I will narrate the story in a way that is accessible for all ages and I need your help to bring the story to life with your photos. Above are some photos so people have an idea what I need. It doesn't have to be fancy! Please dress up as your favourite characters in the Christmas story and take photos in your home, your yard, the park, at a farm (only if you know the farmer!), in the community, anywhere at all. Use your imagination and be creative!
We need photos of:
Mary alone
Mary with an Angel
Mary and Joseph
Someone standing with a sign saying "This Way to Bethlehem"
Innkeeper standing with a sign saying "No Room at the Inn"
Baby Jesus in the Manger (or in Mary's arms)
Animals (any animals you think were at, or would have liked to have been at, the manger)
Angels
Shepherds
Wise Men (and Women!)
So pull out your Bibles, read the Christmas story (Matthew 2, Luke 2) and let's get creative and have some fun!
(Psst! Participation is not limited to children. Or to members of SUC. If you are new to our church via livestreaming we'd love to see you too!)
By submitting photos you agree to have the photos used in our Virtual Pageant and broadcast publicly. Names will not be included with any photos.