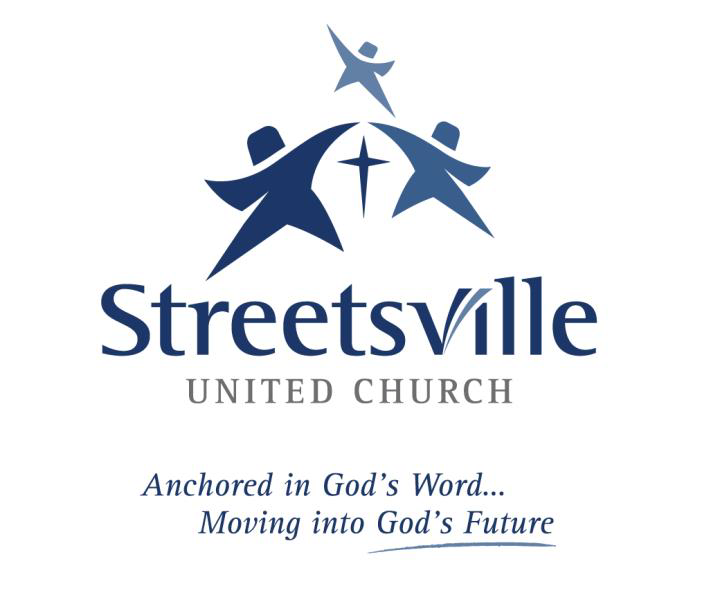 Our Mission
Inviting and welcoming all people into a growing relationship with God through Jesus Christ.
Serving God and our neighbours in the local community
Community Profile
Dubbed "The Village in the City", the historic town of Streetsville is located within the growing city of Mississauga. Streetsville draws its history and strength from the Credit River and the five mills that operated on the river in the early 1800's. In addition to the mills, Streetsville thrived as a farming community situated between the more urban areas of Toronto and Hamilton. It is home to the largest number of historic buildings in the city, including the congregation's current building. Streetsville blends old world charm with its 300+ unique and inviting restaurants, cafes, pubs, shops, and more.
Streetsville boasts diverse communities of faith. Streetsville United Church (SUC) is part of a faith community that includes: St. Andrew's Presbyterian Church, Trinity Anglican Church, St. Joseph's Roman Catholic Church, Streetsville Baptist Church, Jehovah's Witness Kingdom Hall, Portico Community Church, the Hindu Heritage Centre, the Fo Guang Shan Buddhist Temple and a number of small mosques. For many years, SUC has had a strong relationship with Solel Congregation of Mississauga, which is also close by.
Streetsville's economic base consists of light manufacturing, distribution, retail trade and professional services. The resident demographics reflect this diversity of the economic base with varied occupations. Streetsville is a relatively affluent community, but as everywhere, there is also a portion of the population that is considered low-income and in need of help.
Congregational History
SUC is a vibrant suburban congregation that is almost as old as the town itself. The congregation was established in 1820 as a Methodist Congregation and was served in the early years by a series of Methodist Circuit Preachers. Initial meetings were held in individual homes, but in 1821, an 18 foot by 18 foot log chapel was built. This was replaced in 1835 by a wood-framed building near Maiden Lane and by a brick structure on the same site in 1847. The current "high Victorian Gothic" brick Sanctuary on Queen Street was built in 1876 and was dedicated by Edgerton Ryerson. SUC became part of the United Church of Canada in 1925 at the time of Union. An office wing was added in 1950; a Christian Education Wing was added in 1965; an elevator for accessibility was added in 1984.
SUC is a stable, financially viable congregation with a well-maintained historical building. Pride of ownership is evident throughout the building thanks to an active Property Committee and the generosity of the congregation when called upon to meet the financial requirements of maintaining our aging building. Major recent capital expenditures include; installation of a modern organ with many unique features (1984), replacement of the forced-air furnaces in the Sanctuary, Heritage Hall and Office Wing (2012), paving of the parking lot (2015), replacement of the boilers in the CE Wing (2015), central air conditioning for the Office and Heritage Hall (2017), and the replacement of the CE Wing flat roof (2019). The building has an elevator that provides access from the parking lot to the lower Auditorium, CE Wing, Sanctuary and Offices. Heritage Hall, located immediately below the sanctuary, remains the one area with somewhat limited access. A local area network is available throughout the facility. The Sanctuary is equipped with a defibrillator, hearing assistive devices and a projector and screen. In addition, a number of meeting rooms are equipped with smart screens.
With an annual budget of approximately $350,000 the congregation is challenged yearly to meet its financial responsibility, but thanks to the leadership of Church Council, the Finance Committee, the generosity of a very active United Church Women (UCW) and the congregation, more often than not, our obligations are met.
The facilities are very active throughout the week with United Church Women Groups, a Men's Club, Choir and Band practices, and a weekly congregational drop-in. In addition, we host a Montessori School, Scouts Canada programs, a large and active AA Group, and many other community groups.
Our Congregation
Our congregation is a reflection of our Mission Statement, based around the values of; Our faith, Love for one another, and Service to others. We are a diverse and welcoming congregation, but like many United Church congregations, SUC is also an aging congregation. Approximately 45% of the congregation is over 70 years old, with another 40% between 50 and 70 years. The remaining 15% are under 50. A large majority of the congregation has been associated with SUC for over 21 years, routinely attend Sunday Worship three or more times per month and are actively engaged with the church.
We come to Sunday Worship for; the sermon, fellowship, a sense of belonging, the music, to live our faith, and to learn more about Christianity. The congregation looks to our minister to be a pastor and preacher, with an ability to communicate their faith and beliefs, based on scripture, through a stimulating and challenging Sunday worship. We are a very musical congregation with a gifted Organist/Music Director, Senior and Junior Choirs, plus Youth and Boomer Worship Bands. We enjoy singing a variety of music. We also like to eat. We have weekly coffee hours, often with cake for special Sundays; have congregational lunches, dinners, and an all-day cafe at events like our fall UCW Craft Sale.
Pastoral Care is very important to the Congregation. We have an active Prayer Chain. The congregation also provides active Pastoral Care to members, above and beyond that done by the Minister. Groups and individuals within the congregation organize visits to members in hospital and shut-ins, and provide rides to church for less mobile members. Our UCW provides a ministry of hospitality providing receptions to families and friends following the funeral for their loved ones.
While numbers in Sunday school have dwindled in recent years (currently at about 25), we continue to offer Sunday School classes JK/SK-Gr 8 using the curriculum, "Seasons of the Spirit". We also offer a high school class. Until two years ago we were fortunate to have a part-time (14hr/wk) Youth Minister, but have not replaced him following his departure due to our current demographics. For the past several years our current minister has led two adult education courses per year. These are generally offered both on a weekday evening and a Saturday morning with an average total attendance of 20 participants.
We have a strong interest in outreach, particularly local outreach. The Outreach budget is approximately 13% of envelope givings, with half going to the United Church Mission and Service Fund and the remainder distributed by the Outreach Committee both locally and abroad. In addition, the UCW and Men's Groups actively support a number of local and international outreach partners. We run a small weekly food bank within the Church, and as part of the Northwest Mississauga Constituent Group (Streetsville United, Erin Mills United & Erindale United) have recently sponsored two Syrian Refugee Families. Of particular note, in 1987 Streetsville United Church, the Solel Congregation of Mississauga, and the Unitarian Congregation in Mississauga, founded Pathway Non-Profit Community Developments Inc. of Peel. Pathway was established to address the need for affordable housing in the Peel Region. Pathway currently owns two buildings housing 230 families, and manages a third building for Peel Non-Profit Housing Corporation. All three congregations remain actively involved in the ongoing management of Pathway, and its associated organization Pathway Community Programs. Pathway Community Programs offer Breakfast/Lunch Programs and Homework Clubs, at the two Pathway buildings. While not directly actively engaged in social action, for several years SUC has participated in Chase the Chill and Coldest Night of the Year. In 2018 we hosted an "All Candidates Meeting" during the Ontario Provincial Election campaign.
SUC participates in Horsehoe Falls Regional Council meetings with both ministry and lay representation. In addition, a number of our members have been involved with the Mississauga Futures Group of Mississauga United Churches looking at how we might better support one another.
SUC is blessed to have a strong lay leadership to handle administrative duties within our Community of Faith and allow our Minister to focus their time on items with a higher priority to the congregation – e.g. Worship, Pastoral Care, and Faith Formation & Christian Education.
Traditionally the governance model of SUC has consisted of an Executive Committee and an Official Board, with 25 to 50 members, elected annually by the congregation. As it was becoming increasingly difficult to find a full complement of Board members, in 2018 SUC took the first steps toward the typical Church Council Model, by eliminating the Executive and reducing the size of the various standing committees. At this stage in the development, Council committees do not elect members to represent them on Council, with all committee members eligible to attend Council meetings.
SUC is a conservative congregation within the United Church of Canada. Over the past twenty years we have however, evolved from a very conservative congregation towards one with more progressive ideals. Traditional values and beliefs however are still very important. We believe in the doctrines set out in the Basis of Union of the United Church of Canada including The Apostles' Creed and A New Creed.
The Congregation agrees (78% Agree or Strongly Agree) with the United Church of Canada's policy that "We are committed to being a welcoming church that is opposed to discrimination against any person on any basis, and affirm that all human beings are made in the image of God regardless of sexual orientation or gender identity. We welcome into full membership and ministry people of all sexual orientations and gender identities (lesbian, gay, bisexual, two spirit, trans, queer+)"1 and that going forward, our Minister should be given more latitude to make decisions related to same sex marriages and baptism of children of same sex couples, provided that the couple demonstrates a genuine commitment to their faith, and to the promises that they are being asked to make before God (74% Agree or Strongly Agree). While this represents a dramatic shift for the congregation, it remains an area with a great deal of sensitivity with divergent opinions across all age demographics within the congregation. Consequently moving forward in this regard will require a great deal of grace and thoughtfulness by Church Council, the congregation and our Minister.
We recognize that as the congregation continues to age, we need to evolve in order to remain sustainable for future generations. The assessment of our congregation, through our 2019 survey, reveals that we are open to new ideas and new ways of doing things in order to reach the broader local community and attract them to join us in our Mission. We recognize that younger generations communicate quite differently and that a greater focus on social media is important going forward. At the same time, we recognize that many of our more senior members currently provide much of the financial and administrative support to the congregation and although most are open to change, a balanced and methodical approach is necessary. Although not unique to SUC, we acknowledge that for some, enacting change can be a difficult journey. Consequently this will present an ongoing challenge to Church Council and our Minister to blend a sense of tradition while embracing change to attract younger generations.
1 Moving Toward Full Inclusion: Sexual Orientation and Gender Identity in The United Church of Canada